MEMBERSHIP FAQ
Can I cancel my membership at any time?
Yes of course you can! We'll be sad to see you go though. If it's something we have or haven't done please let us know so we can improve the membership facitlites. If you're a paying member and you just want to take a break you can Pause your membership for any length of time. See 'Can I Pause My Membership?'
Paying members
Annual subscribers will receive a pro rata refund charged at the monthly rate of £37 up to 9 months. No refund from 10-12 months.
Monthly subscribers will be cancelled from the next due payment date.
To cancel either go to
My Account > Subscriptions > Cancel (or Pause if you think you might want to restart at a later time. This retains any reductions you've had to date, otherwise you come back at the full price) You should then receive a confirmation email. Also go to your Paypal account and cancel the subscription from there. How to cancel in PayPal .
or
Email members@basttraining.com and request to cancel.
Can I pause my membership?
Yes you can. Go to My Account > Subscriptions and select Pause. You can cancel Pause from here when you're ready to continue the membership.
If I cancel can I rejoin at a later date?
We will welcome you back with open arms! Just go through the joining process again.
Please note if you are on the BAST Grad discount this will be cancelled when you cancel the membership, so when you return it will be at the regular membership rate.
Can I go from Free to Paid membership?
Yes you can go to My Account > Upgrade > Select the membership level you want to join, go through the payment process and voilá!
If you intend to do the BAST Course pelase use the join link we send you in the pre course email. Do not upgrade from the notmal free membership.
If you have done the course and want to upgrade then email us for the relevant link.
Can I get a refund if I am not happy with BAST Paid membership?
If you are on the monthly subscription then your membership will continue till the next payment date. If you are an Annual subscriber and you cancel before 10 months are you will be refunded a pro rate rate based on the monthly rate. 10-12 months no refund.
How do I access the BAST Closed Facebook group?
If you are a BAST Full member you will have access via the membership dashboard. Request access, we will approve your access to the group in Facebook. If you aren't in the group with in 24 hours drop us an email and let us know.
How do I make a complaint?
Please email us immediately describing the issue in detail.
What circumstances would cause my membership to be revoked?
Anyone who wants to spam, trash talk, be negative, problematic, drag the group down in any way will be asked to leave to protect the integrity of this community. Removal under these conditions will disqualify you from any membership fee refunds. This is at discretion of the BAST admins and community sentiment/complaints received.
BAST 20 HOUR COURSE FREQUENTLY ASKED QUESTIONS
Below you'll find the answers to questions we're asked the most about the BAST course.
Do you have a brochure?
Yes! Click the image below to view the BAST brochure online.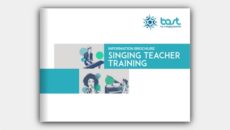 Who are the trainers?
The BAST Trainers are all highly experienced and qualified teachers, practitioners and business owners. They have been chosen with care, taking into consideration their passion for teaching, qualifications, training, and experience. Each trainer has their own busy practice, high regard within the singing voice world, and or works in an established educational institution. Please see the individual bios for more details on each trainer. Line | Ian | Kaya | Kat
What are the payment methods?
We accept payments via Paypal, credit card or bank transfer (on prior agreement)
Can I pay by instalments?
We have an instalment plan for the BAST Course.  We require an initial deposit and then the instalments are worked out according to the time available before the course starts. the full payment must be made by week 5 of the course. There is a 5% surcharge for paying in instalments. Please email us for more information.
What is the difference between online and in person/class?
The main advantage of attending the course In-Person is that you will be involved with practical exercises in the class, sitting at the piano working with other classmates and guinea pig students. Each week you will review the previous week via an in-class Pop Quiz and be given suggested self-study assignments. Other benefits are that it's a more personal experience and you can go for drinks after the class with your fellow classmates!
The main advantage of attending the course Online is the convenience of not having to travel, especially if you are not located near any of the Trainers. Also, your dog/cat can join you on the sofa! The online course has exactly the same content but it's delivered live via an online platform such as Zoom.  We have suggested Self-Study work to review each week's class and which you can do via online Pop Quizzes and assignments. Some these will be reviewed in the next class, for others you will receive an answer sheet the following week. You will require a good internet service as well as a webcam, and a mic/headphone headset or similar so you can ask the trainer questions, talk to each other and actively engage in demonstration exercises. As you will still be asked to demonstrate and try out the exercises it is not recommended you do this class whilst in a public place – unless of course, you don't mind getting funny looks from fellow cafe attendees. We know you like showing off, you are a singer after all, but this might be a tad too weird.
Do I have to sit any tests to get my certificate?
As a requirement to get the course certificate you need to pass (60%) the Keyboard & Scales Evaluation Test by the end of the course. You can do the evaluation test at any time and as many times as you need to pass.  We believe that to teach effectively you need, at the very least, be able to play scales, arpeggios and root position chords. It is therefore highly recommended non-players get piano lessons.
What happens if I can't attend some of the classes?
We require that you complete 90% of the course (9 out of 10 classes) to issue a Certificate of Attendance.  If you are unable to do this, you will not graduate.  However, there are ways to make the time up as follows:
Attend another course to catch up on the weeks you missed out on.  This can either be online or in person (if there is another course running in your area)
Undertake a one-to-one session with your trainer (for an additional cost of £80 per hour). On average one session missed can be covered in a 1 hour one-to-one session but this may vary from person to person, class to class.
Attend a course at a later date to finish and graduate
Do I get any form of qualifications or accreditation on this course?
No. This is not an accredited course at this time. We are going to look into is in the future.
Graduates from the BAST Course have a good chance of being accepted on the MA Professional Practice (Voice Pedagogy) – Singing Voice Pathway (University of Wales (Trinity St David))  Click HERE for more information.
BAST graduates may also be interested in joining the Vocology in Practice organisation, an elite network of voice professionals. Minimum of  3 years of teaching experience and an entrance assessment are required.
Can I attend online and in person?
Whilst it is preferable for continuity to stay with one form of course delivery and trainer, it is possible to attend a mix of online and in person sessions. This will need to be agreed to by all parties please email us for more information.
What is the differnce between a 10 week course and an Intensive?
With the 10 Week course you have a whole week between classes to pontificate on what you've been taught and to practice the exercises we set for you. These can be delivered online or in person. The intensives are, well, intense! We tend to deliver these delivered in person. You will recieve the 20 hour course over 4-5 days so that is A LOT of information. We call it a 'brain dump'. Most of your learning happens after the course and when you are teaching. But we've got your back, with the  Troubleshooting Clinics and BAST Members group where you can access a BAST Trainer directly for help and revision. Also don't forget you will have all the course content, class recordings and extra resources available to you to download and review in your own time.
What's the difference between one trainer and another?
All BAST Trainers follow the same teaching syllabus.  The only difference is purely down to location, personality, experience and style of teaching.  Any course will cover all aspects needed to graduate.
Will BAST provide students for me once I graduate?
In short, no. Ultimately it is up to you to go and build your teaching practice once the course is over. You will be given plenty of tools and suggestions on how to do this during the course. Saying this there are times when we are approached for singing teacher referrals. So if you are a part of the BAST community we are more likely to refer you if you are in the student's area.
What happens if the 3 person minimum is not achieved for the course I've booked on?
In order for the course to give you the maximum learning experience, we have realised that there needs to be a minimum of 3 people per class. Whilst it is feasible to run on less, or even one2one this is not our ideal. Therefore if a course looks like it is not going to achieve the minimum attendees we will be in communication with you regarding the possibility of postponing the start date. If we need to cancel you will be given the option to receive a 100% refund or to hold the fee over till the course is run.
What happens if I want to cancel and event or course?
I haven't got the Certificate of Attendance
If you haven't received your certificate of attendance within a month of completing the course and all it's requirements then please contact us. We will reissue it at no charge. You have two months from completion of the course to inform us that you haven't received the certificate, otherwise you will be charged the reissue fee.
If you've lost or destroyed your certificate, then no problem, it can be replaced. There is an admin and postage fee of £15+VAT. Click HERE to request a reissue.